What Is Integral Lifework?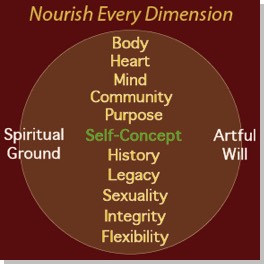 |

Integral Lifework
is about positive self-care and self-transformation.
Imagine a way of being that allows you to nurture yourself on every level, overcome past barriers to wholeness, open up new possibilities and connections in every aspect of life, and empower your purpose and potential. Now imagine this way of being expanding outward from you, positively influencing everyone and everything around you — in ever-widening circles of interaction.
|

In
Integral Lifework
,
you will rapidly develop a customized approach - a personally tailored
integral practice
- to help make all of this possible. In a surprisingly short period of time, you will learn simple tools and techniques that will enhance your relationship with yourself, with others, and with the world around you. Some demonstrated benefits of
Integral Lifework
include:


Improving and enriching intimate relationships, friendships, family relationships and work relationships

Enhancing physical healing

Expanding creative energy and insight

Increasing clarity for personal goals and life direction

Overcoming obstacles in a spiritual journey

Resolving immediate or longstanding emotional challenges

Creating healthy, nourishing patterns of interaction with others

Promoting overall harmony, wholeness and wellness within and without

Initiating effective, compassionate ways to create positive change in the world
But how does
Integral Lifework
accomplish this? Please read more below….
The main idea behind
Integral Lifework
is that when thirteen nourishment centers are flourishing in harmony with each other - that is, when we are taking care of these dimensions of ourselves in a balanced and integrated way - our lives will experience renewed harmony and flow. And since most of us are actually pretty good at caring for ourselves in many areas, all that remains is to identify those nourishment centers that may be a bit neglected, and target them for special attention. Sometimes this involves overcoming barriers that have disrupted nourishment, and sometimes this is just a matter of focus and self-compassion. But that's how it works!

The goals of
Integral Lifework
are to explore any areas that may need some extra nurturing, identify possible barriers, provide tools as quickly as possible that will help sustain balanced and harmonious self-care moving forward, and to do all of this in a collaborative, client-centered way. For more detailed information about this approach, please check out the
FAQ
page, the
Resources
page, and the
Integral Lifework Overview
. You may also enjoy my interview about Integral Lifework on
Dr. Ken Campos's "Hope on the Other Side"
podcast.
The First Steps in This Journey
Step One:
Complete the online
Integral Lifework
Nourishment Assessment
. This questionnaire will help you identify the areas of self-care where you are already flourishing, and some areas that may require special attention. This process usually takes about a half hour and is very straightforward.
Then have one-to-three people who know you well complete the
Nourishment Assessment
on your behalf. This will help reinforce and refine the information you provided in your own self-assessment. They will be answering exactly the same set of questions about you. If you are thinking about Couples Coaching, each of you should fill out two assessments: one self-assessment, and one partner-assessment.


Step Two:
Once completed, please fax your Nourishment Assessments to me, or you can password-protect your Assessment and email it to me if you prefer (just be sure to text both your name and your password to me at 413-242-4410 after emailing me the files). By submitting these completed Nourishment Assessments with your contact information, you will be requesting an initial phone consultation, which costs a flat fee of $45 for individuals and couples. If you are interested in Couples Coaching, please let me know if one or both of you can be contacted for the consultation - or if you want to have everyone on the phone together.


Step Three:
I will always try to respond within 24 hours with some proposed days and times for a consultation phone call. The phone consultation usually lasts a half-hour to forty-five minutes. During the consultation, I may ask some additional questions and share a few thoughts about Nourishment Assessment results with you. This is also your opportunity to ask questions, find out how I approach
Integral Lifework
coaching, and to get to know me a bit.


Step Four:
If our consultation goes well, and my approach seems like good match for your goals and needs, the final step will be to read, complete and sign the
Integral Lifework
Coaching Disclosure & Agreement
, and then fax a copy to me or scan and password-protect it as an Adobe PDF if you prefer - again please text your name and password to me at 413-242-4410 if you email me the form. We can then schedule our first full session, where we will outline what you want to achieve, start planning our approach in more detail, and begin the journey!
I look forward to hearing from you!
- Todd Collins Logan, Integral Lifework Author, Coach & Trainer
ph: 413-242-4410